Empowerment through education and training: a success story from Liberia
10 May 2019 UNIDO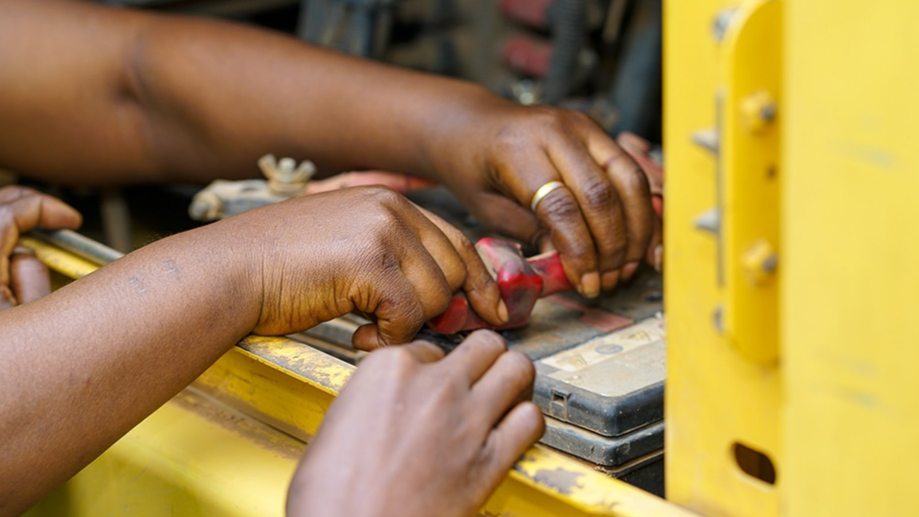 Rhodell Diamond Kpandyu is the last born and the only girl in a family of five children. Her middle name was given to her by her parents because they saw her as the diamond in their family. Kpandyu grew up in a poor family, with her father earning a meagre income from selling medicines upcountry. She hoped for a better life for herself and her family.
In her spare time, as a schoolgirl, Kpandyu liked to hang out at a garage in Gardnersville, a suburb of the capital, Monrovia. Her interest in mechanics was considered quite unusual for a girl, but she began to dream of a career in mechanics.
On leaving school, she enrolled for a mechanics course at the Monrovia Vocational Technical College. In Liberia, as in many African countries, vocational training is recognized as a pathway to a well-paid job, but traditional attitudes deem certain activities fit for men and others for women. For example, 70% of all women in technical or vocational training in Liberia study for one of five professions: tailor, beautician, caterer, soap-maker and nurse. Men dominate training in stone-masonry, driving, carpentry….and mechanics. Kpandyu wanted to change the perception that mechanics is not a job for a woman and, with the significant amount of technical knowledge acquired at the garage, she was sure she would make it.
Unfortunately, in 2014, the Ebola virus outbreak disrupted her studies when the government announced the closure of public schools. Being unable to continue her studies, she decided to go back to the Saah Nyumah Garage to work as a mechanic and try to put her knowledge into practice.
It was at this time that the United Nations Industrial Development Organization (UNIDO) announced that, in cooperation with the Government of Japan, it would strengthen the heavy equipment training infrastructure and courses provided by the Booker Washington Institute vocational school. In 2017, Kpandyu passed an entrance exam for a three-month training course in electro-hydraulics at the Japanese Heavy Equipment and Operators School (JHEOS), a part of the Booker Washington Institute, run in cooperation with the Ministry of Commerce and the Japanese company, Komatsu. JHEOS is a training institution for operation and maintenance of heavy equipment used in the Liberian mining, agriculture, agroforestry and construction industries.
Although her family was unable to provide her with any financial support, Kpandyu was determined not to miss out on this opportunity. The course itself was free of charge, and she only required funds for accommodation and basic needs. She completed the course as one of the top students in her class, and, as a result, secured an internship with a large private sector organization called Kanu Equipment. There, her supervisor immediately noticed her technical knowledge, focus and determination to learn and deliver, and Kanu Equipment gave her a full-time opportunity as a technician. With a steady job in hand, Kpandyu finally had the means to support her family financially.
The personal success story of Rhodell Diamond Kpandyu sends a very strong message to young women striving to achieve success: don't give up! Traditional attitudes that deter women from entering certain professions can change and are changing. Governments and the private sector realize that gaps in the labour market can be filled by properly qualified, well-trained and determined candidates, irrespective of their gender.
UNIDO with the support of the Government of Japan and in partnership with Komatsu continues to support the JHEOS in providing labour market-oriented training programmes in excavator operation and basic service training. Each year, around 200 young men and women from Liberia are enrolled on training programmes.
Education and skills training are keys to unlocking opportunities for all young people. This is especially important for girls who, in many countries, face unfair challenges excluding them from decent jobs and equal pay.
Kpandyu's success story and the vocational training provided by the JHEOS in Liberia is an example of how UNIDO is helping to achieve Sustainable Development Goals 5 and 8:
Goal 5 – To achieve gender equality and empower all women and girls
Goal 8 – To achieve employment and decent work for all.
When women and men are more equal, economies grow faster and more people are lifted out of poverty.
All of us should have the chance to seize the opportunities life offers. One of these opportunities is to work, to make a living, to have a decent and fulfilling job.
For more information, please visit the Facebook page of the programme as well as the official webpage.
See also: Women and youth employment in productive activities