Ethiopia: spotlight on leather and agribusiness
21 October 2022 Charles Arthur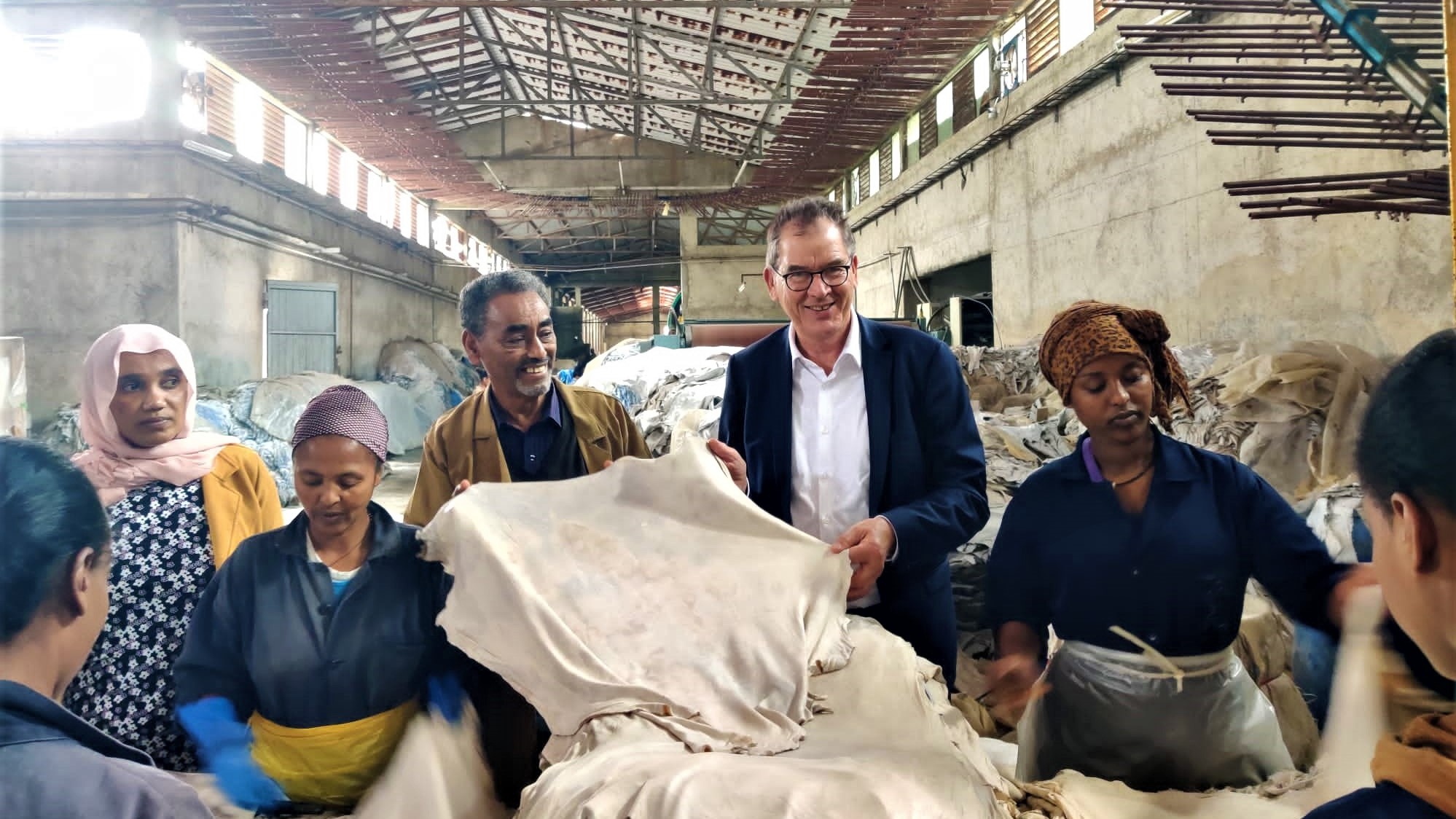 During visits to a leather tannery and an agro-industrial park, UNIDO Director General Gerd Müller highlighted the potential of the leather and agro-processing sectors to transform Ethiopia's economy.
Leather has long been a mainstay of the country's economy and, with technical assistance from UNIDO, the productivity and quality of leather produced has greatly increased. Revenue from the export of mainly finished leather rose to US23m. in 2013 and to US133m. in 2018. However the biggest and, as yet, unrealized advantage lies in the production, in Ethiopia itself, of leather goods such as shoes, gloves, handbags, luggage, garments, and horse saddles and harnesses.
On a visit to the Colba tannery in the town of Modjo, 40 or so miles south-east of Addis, Director General Müller spoke to Ayele Dejene, general manager of Colba Tannery Plc, about the leather tanning process and ways to make it less damaging to the environment.
Müller also said UNIDO wanted to do more to help Ethiopia develop the leather value chain in the country. He pointed out that the leather for the manufacture of a pair of shoes sells for just a few dollars, while the wholesale price of a finished pair of shoes in Europe can be hundred dollars or more.
A specialized leather city project, financed by the European Investment Bank and implemented by UNIDO, is planned for Modjo. The city will have infrastructure facilities for a state-of-the-art waste treatment plant, chemical and shoe factories, and dozens of tanneries, including the 14 existing tanneries in Modjo which will be relocated.
Later, Müller visited the site of an integrated agro-industrial park (IAIP) in Bulbula, some 90 miles south of the capital. The Bulbula IAIP is one of four parks set up by UNIDO to boost agribusiness in Ethiopia. It was opened by Prime Minister Abiy Ahmed in May 2021.
Ethiopia's wheat production is increasing, both to provide the local market with flour and products such as bread and pasta, and for export. Ethiopia expects this year's harvest to amount to 2.4 million metric tons, compared to 1.42 million tons in 2021. Part of the increase will be achieved by halving post-harvest losses, currently representing 20% of harvested wheat.
Bulbula IAIP officials, including Sisay Gemechu, CEO of the Oromia Industrial Parks Development Corporation, explained that the IAIP will help both reduce post-harvest losses by providing effective storage, and increase value by processing the wheat grown by farmers in Oromia regional state.
Müller also visited one of the local rural transformation centres (RTCs) which provide integrated services to rural communities within a 100 kilometre radius of the IAIP site. RTCs are a government-run rural development initiative that serve as a linkage to the IAIP in terms of raw material supply. The UNIDO Director General got a full view of the value chain when he visited an agricultural commercialization cluster (ACC) for wheat farmers in the area. The national ACC initiative brings together groups of farmers and provides agricultural inputs and interventions that help increase productivity.
Earlier on his mission to Ethiopia, Müller met industry minister Melaku Alebel, who expressed his government's appreciation of UNIDO's support for the development of the four integrated agro-industrial parks and voiced interest in UNIDO feasibility studies for a further three parks.