Hands-on training in Ethiopia, partnering for a better future
27 November 2017 Daniel CHANG
Technical vocational education and training (TVET) programmes, established to improve the quality of human resources in the country, are often of low quality and theory-driven due to resource constraints and a lack of skilled technical teachers.
These programmes are also ill-prepared to adjust to changing labour market demands and cannot keep pace with the rapidly increasing demand for trained manpower in sectors such as construction and commercial vehicle maintenance.
A severe shortage of skilled technicians is having a major impact on productivity and growth in the industrial sector, and thus on Ethiopia's economic and social development.
Unlocking new opportunities through practical training
To address this issue, UNIDO and the Swedish International Development Cooperation Agency (Sida), in collaboration with the Swedish vehicle manufacturer, Volvo, have established a training academy for heavy-duty commercial vehicles at the Selam premises outside Addis Ababa.
This initiative provides badly needed skilled manpower for the private sector and, at the same time, creates opportunities for young people to get gainful employment.
Hanna Negussie, 21, has just started her training.. The opportunity to learn new skills and work on big trucks motivated her to join: "I always wanted to work on with large vehicles", she confirms.
The partnership improves young Ethiopians'access to gainful employment opportunities in advanced commercial vehicle maintenance, thereby contributing to poverty reduction efforts in the country.
Anneke Knutson, head of bilateral development cooperation at the Swedish embassy in Ethiopia, believes this initiative is making the most of everyone's contribution: "We are happy to have a multilateral organization like UNIDO with experience working in industrial development but also in getting women and youth into productivity."
Images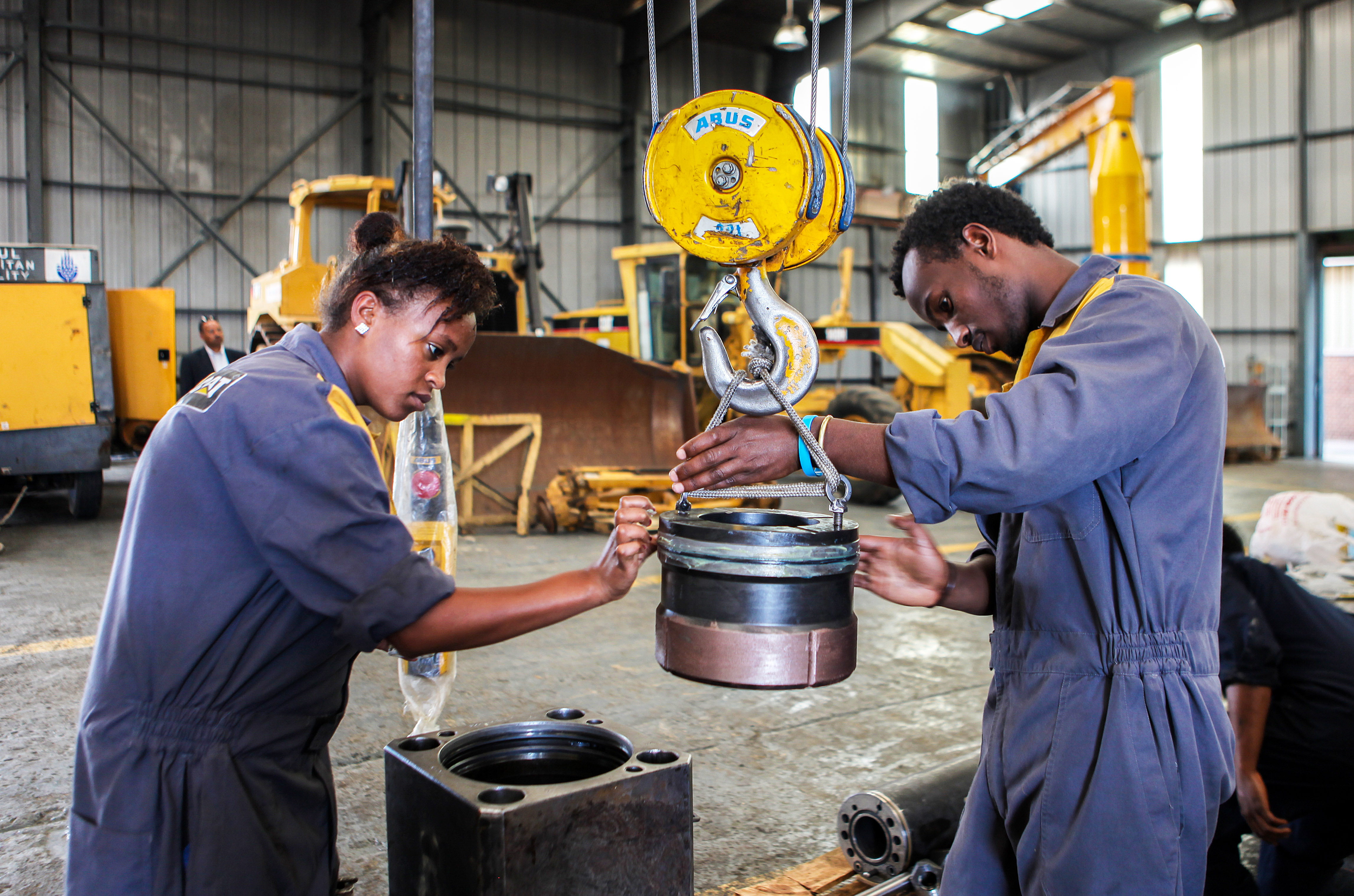 Creating impact through successful partnerships
Leveraging its international experience in technical vocational training, UNIDO is responsible for the overall project management and implementation, ensuring the Academy's smooth delivery.
Volvo provides new equipment, training material, teacher training, ongoing curriculum development and apprenticeship opportunities for students. The Selam Vocational Training College is the project owner and manages administration of the academy, recruitment of teachers and the selection of students.
The initiative at Selam Vocational Training College is the first state-of-the-art vocational training for heavy machinery in Ethiopia that is open to applicants irrespective of their background.
"Normally in other academies or polytechnics the educational system is focused on theoretical aspects. When you visit most of the schools, there is no enough machinery and equipment for hands-on things," says Tesfaye Zenebe, General Manager of the Selam Vocational School.
The facility trains 25-30 high school students per year. The four-year training includes, inter alia, courses in English and information technology. In addition, more than 100 local technicians benefit annually from short-term skill upgrading trainings held at the academy.
The new trainee, Hanna Negussie, is already thinking ahead. "My future plan is to open my own business, but before that I want to learn as much as I can and get experience working in a big company."