Rebuilding the carpentry profession in Liberia
08 June 2023 Mark Korpu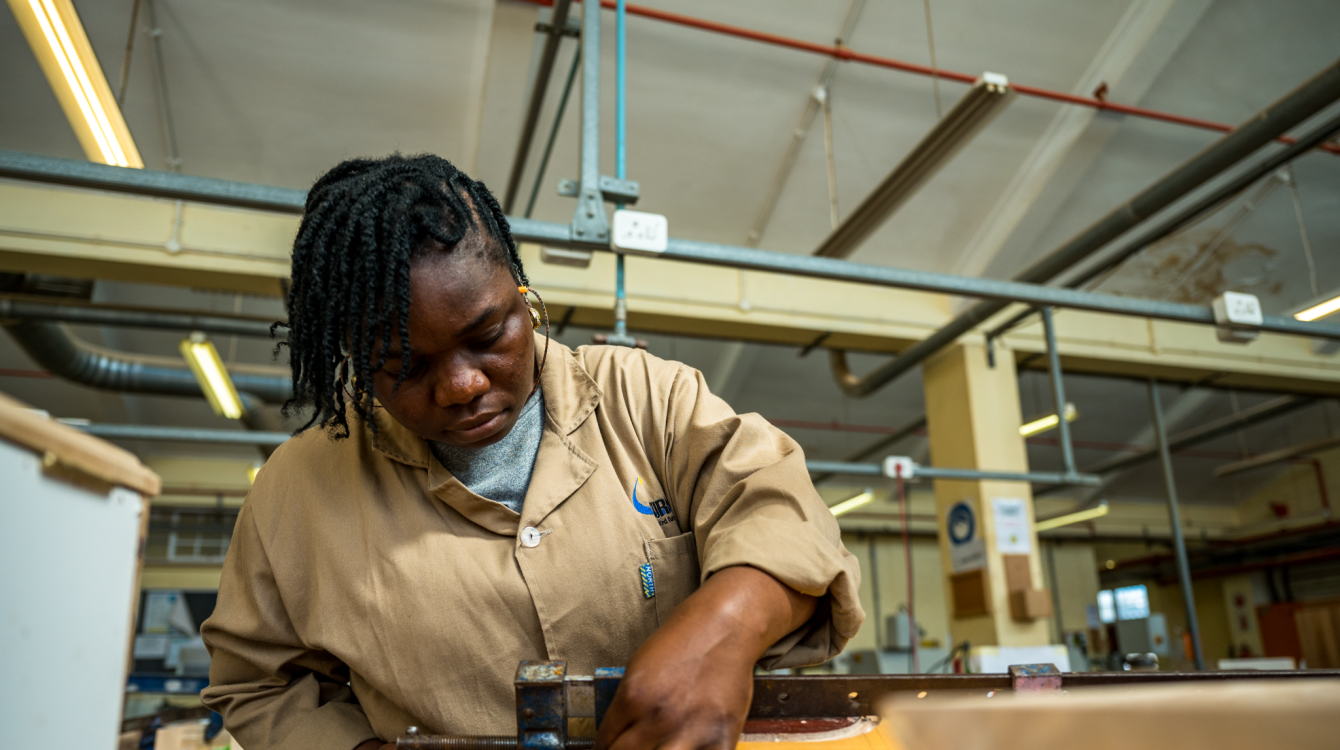 The Youth Rising project - supported by the European Union and Government of Sweden and implemented by the United Nations Industrial Development Organization (UNIDO) - aims to revive the carpentry industry and equip young Liberians with valuable skills. The project aims to strengthen Liberia's Technical and Vocational Education and Training (TVET) sector by building, rehabilitating and equipping TVET workshops and training of instructors.
The project supports eight schools in seven counties and involves developing curricula, training teachers, providing new equipment and introducing new techniques.
At the Booker Washington Institute, a prominent vocational school in Liberia, for example, carpentry instructor James Fallah is acquiring advanced joinery skills.
Fallah's training is part of a larger effort to upgrade carpentry skills across the country so that Liberians can build livelihoods and contribute to sustainable development, while conserving the country's rich forest.
Carpentry is a critical field in Liberia, where wood is a major natural resource.
Decades of war and economic stagnation have left many carpenters without access to modern techniques or equipment. The Youth Rising project is rectifying this by providing training in advanced carpentry techniques and modernizing tools and equipment.
"The carpentry industry has enormous potential to provide jobs and improve livelihoods in Liberia," says Minister of Youth and Sports, Zeogar Wilson. "By reviving these schools, we can ensure that young Liberians have the skills they need to succeed in this industry and contribute to the sustainable development of our country."
In a bid to boost the capacity of the revived carpentry schools, 12 new carpenters, including two women, recently spent 15 months in South Africa gaining a recognized qualification in the profession from the Furniture Technology Centre in Cape Town.
This achievement will help restore the schools' instructional capability to deliver the new carpentry courses and put into use advanced machines and tools.
Along with the recent training of carpentry teachers, the availability of more modern machine and tools has created an ideal environment for technical schools to impart demand-driven, high-quality skills to students.
This is a crucial milestone in the revival of the carpentry industry in Liberia, which is a vital sector of the economy.
With this development, young people will have the opportunity to acquire essential skills that will enable them to build sustainable livelihoods and make valuable contributions to the country's development and rich forest.
According to UNIDO, Liberia is actively seeking alternatives to traditional forest logging and has been exploring more durable and sustainable sources of wood. A particular focus has been placed on rubber plantations, where these carpentry students are being engaged and trained to work with rubber trees (Hevea Brasiliensis).
While these trees are primarily cultivated for their latex, their wood can also be used for carpentry purposes.
UNIDO project manager, Stavros Papastavrou, said, "By utilizing rubber wood, our students are able to create long-lasting furniture and also contribute to sustaining the rich forest of Liberia."
Meetee Diazee is one of the instructors on the project. She described the training at Furniture Technology Institute in Cape Town, South Africa, as transformative.
"Learning new techniques and gaining a recognized qualification in carpentry has been a life-changing experience for us," said Diazee. "We are excited to share our knowledge with the students and to help them develop the skills they need to succeed in the carpentry industry."
This story was originally published by Africa Renewal.
- This factsheet provides a short summary of the Youth Rising project.