A new United Nations Industrial Development Organization (UNIDO) accelerator aims to speed action on Sustainable Development Goal 9 (SDG 9) in Latin America's middle-income countries, many of which are trailing on industrialization targets.
SDG 9 (build resilient infrastructure, promote inclusive and sustainable industrialization and foster innovation) is closely linked to other goals such as those targeting job creation, technology transfer, skills development, gender equality and environmental sustainability, making it key to achieving the 2030 Agenda for Sustainable Development.
But results so far have provided little to cheer about, especially in least developed countries where a key industrialization target of doubling manufacturing's share in employment and GDP currently looks beyond reach.
For middle-income countries, home to three quarters of the world's working population, the picture is more mixed, although figures on the majority middle-income region of Latin America and the Caribbean suggest economies are struggling.
UNIDO is the custodian of six out of 12 indicators under the SDG 9, and is also responsible for tracking its targets. Data from five industry-related indicators collected between 2000 and 2018 show Latin America is one of the poorest performing areas in the world, with most of its middle-income countries swinging between stagnation and limited advances. Some are even going backwards.
Getting countries on track to meet SDG 9 industrialization targets will require stronger growth, accompanied by technological innovation and action to reduce the environmental impact of production.
That is an uphill battle for many of Latin America's middle-income countries, stuck in a cycle of weak growth, modest productivity and low investment, compounded by growing levels of public debt. According to the Economic Commission for Latin America and the Caribbean (ECLAC), gross general government debt has risen to 77.7 per cent GDP, the highest of any developing region, sparking fears of a new debt crisis.  
Although now slowly emerging from the worst of the COVID-19 crisis, the scars left by the sharpest economic contraction in a century remain. Unemployment, inequality and poverty are all on the rise. For middle-income countries saddled with high debt and limited, if any, access to traditional forms of development cooperation or other concessional funding, this is particularly challenging.
Given the importance of middle-income countries to achieving a better and greener recovery in the region, along with the short timeframe available to deliver on the UN Decade of Action (2020-2030), collective efforts on SDG 9 must be strengthened at every level. 
Coordinated action-oriented policies are needed to help mobilize resources for development and integration into the global economy, helping countries to manage risk, improve institutions, and maximise the potential of their natural resources.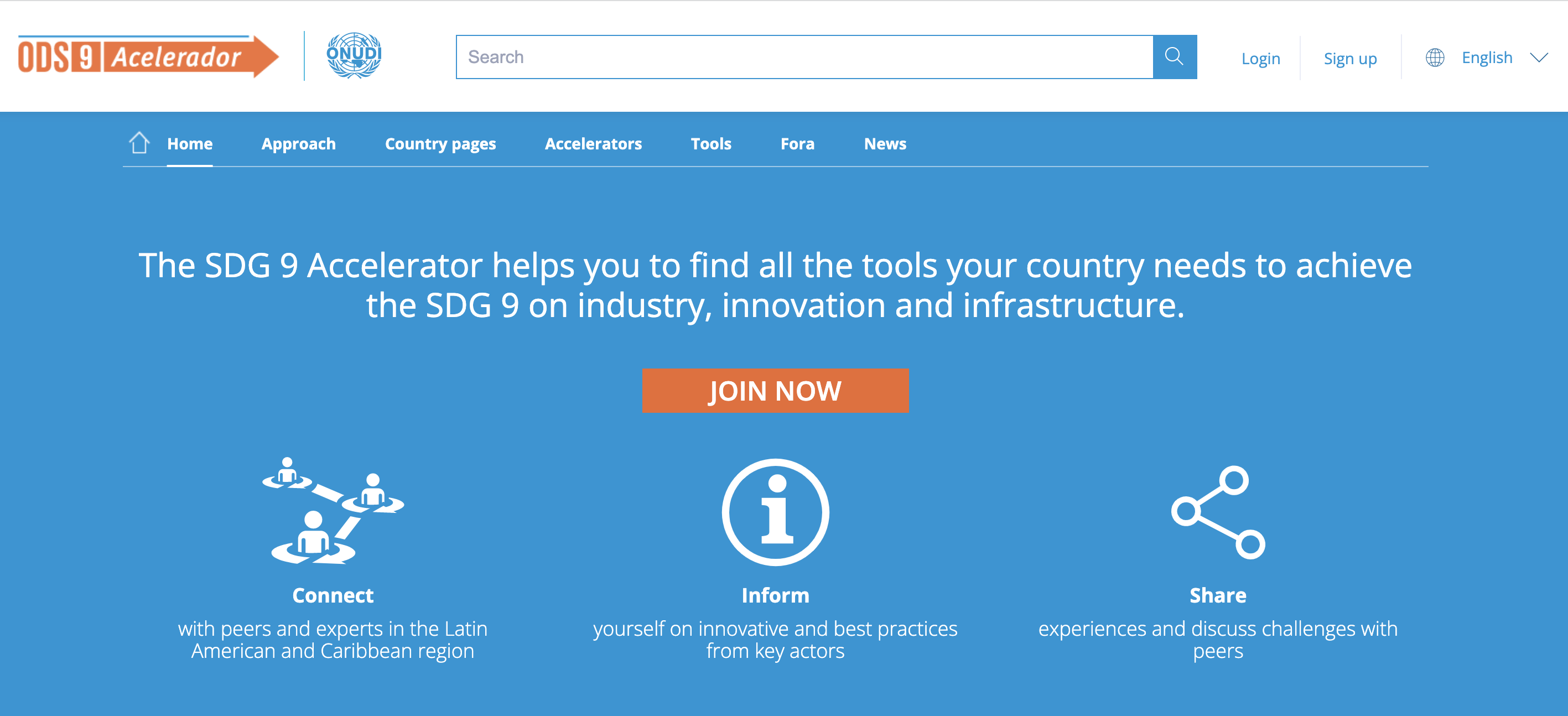 UNIDO's new SDG 9 Accelerator for Latin American and the Caribbean, officially launched in April 2022, is a contribution to this effort achieve progress through innovation. The Accelerator is a digital platform that invigorates regional integration efforts, boosts participation in the technology revolution, proposes sustainable economic models, widens cooperation, builds new capacity and mobilizes finance.
Rooted in a strategic approach to middle-income countries that emphasises UNIDO's key role as a global convenor, policy advisor and arbiter of standards and norms, the Accelerator is designed to build networks and partnerships that connect countries and donors, as well as being a gateway to a plethora of ideas and opportunities for advancing SDG 9.
The contributions of relevant stakeholders can give policymakers a better understanding of national and regional strategies regarding SDG 9. At the same time, countries themselves can benefit from UNIDO's industry knowledge and advisory services, visiting thematic areas on the platform that address specific issues relevant to SDG 9, such as quality and standards, industrial decarbonization, small and medium-sized enterprises (SMEs) development, and employment and industrial policy.
By providing wider access to publications, events and a network of experts, as well as concrete offers of funding and training, the platform will be a "one-stop shop" for policymakers, industry representatives and governments to exchange ideas and work out strategies required to build sustainable and inclusive industry sectors that can participate successfully in global industrial value chains. For example, the SDG 9 Accelerator is the ideal way for policymakers and industry participants to explore ways to implement norms and standards required for global market access.
The first knowledge exchange to take place on the Accelerator platform was a training programme on the circular economy, organized in collaboration with Costa Rica's Ministry of Economy, Industry and Trade following its initial launch in Spanish in November 2021.
Costa's Rica's Ambassador to the United Nations in Vienna, Alejandro Solano, stressed that "the systematization and articulation of information is always important. The Accelerator is a tool that unifies these processes and facilitates decision-making."