UNIDO-UN Women Programme boosts women's economic empowerment in Egypt
26 July 2022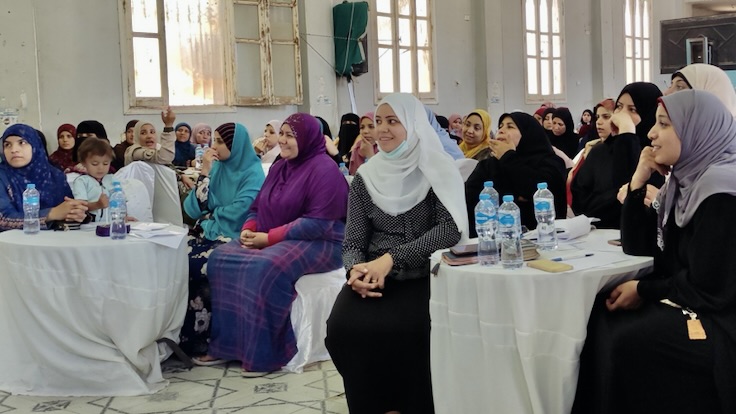 The Rabeha – meaning "winner" in Arabic – programme is jointly run by the United Nations Industrial Development Organization (UNIDO) and UN Women Egypt. It aims at enhancing the economic wellbeing of at least 6,300 Egyptian women through increased access to employment and/or self-employment opportunities by 2024. The joint programme is funded by Global Affairs Canada and is being implemented in partnership with the National Council for Women, the Ministry of Trade and Industry, and the Micro, Small and Medium Enterprises Development Agency.
From January to April 2022, UNIDO made significant contributions to promoting a more conducive entrepreneurial eco-system for women entrepreneuership in Egypt through the delivery of an institutional capacity enhancement programme. This programme sought to enhance the quality and outreach of support-services targeting women entrepreneurs and employment seekers in four key governorates of Egypt (Beni Suef, Fayoum, Giza and Minya) and was offered to the Ministry of Trade and Industry (MoTI); the Micro, Small and Medium Entrepreneurship Development Agency (MSMEDA); the Ministry of Youth and Sports (MoYS); the Ministry of Local Development (MoLD); and the Ministry of International Cooperation (MoIC).
"There is still a huge gender gap in business ownership in Egypt and UNIDO is committed to promoting gender equality", said Ahmed Rezk, UNIDO Deputy Regional Director in Egypt. "Women should change the way they do business".
As a first step, each Ministry received an institutional profile that identified strengths as well as opportunities for further development. Thereafter, forty-seven central and governorate level Ministry employees – 60% of whom were women –participated in a comprehensive 6-day capacity building programme that provided in-depth knowledge and skills in five key areas: Entrepreneurship and Innovation trends in Government; Mission model Canvas; M&E for government; Strengthening outreach using digital channels; and Management of donor and partner relations.
As a result of the hands-on, intensive training, four new and improved support services programmes for women entrepreneurs were developed as new plans to be rolled out over the course of 2023. To further support their outreach, each Ministry also received a new support service toolkit that outlines those programmes and initiatives offered to women beneficiaries in the target governorates and the target value chains (VCs).
"The government has paid a lot of attention and is very much supportive of accelerating programmes when it comes women economic empowerment", said Gielan El Messiri, Deputy Country representative of UN Women in Egypt.
As a culminating activity, Rabeha under the patronage of Ministry of Trade and Industry and the Embassy of Canada to Egypt, hosted the "Ministry Showcase Event and Award Ceremony" on 22 June 2022 in Cairo. The event demonstrated the strong enthusiasm of the Ministries who presented their upcoming new and improved plans targeting women entrepreneurs, and the timeframes and targets they will achieve over the next 12 months.
"Today's event is very symbolic because the subject matter of this meeting - Women's economic empowerment - is at the core of Canada's development assistance in Egypt", said Jasmine Wahhab, Chargée d'Affaires a.i. of Canada in Egypt. "Canada's programming is helping Egypt to support micro, small and medium enterprises, skills development and expand entrepreneurship and boost the productivity of the private sector to ensure inclusive growth that works for everyone".
Recently, Rabeha also launched a mass awareness-raising campaign in Beni Suef, Fayoum, Giza and Minya that aimed to reach 2,300 beneficiaries – aspiring women entrepreneurs, early-stage women business owners and women employment seekers. This is the first step in the multi-stage technical support provided by Rabeha to beneficiaries over the next two years.
The campaign ran during June to July and helped orient a total of 2,390 women beneficiaries to entrepreneurship and decent employment opportunities in the programme's target value chains, basics of entrepreneurship and running their own business, as well as advice on how to boost their chances of landing a job. Rabeha also created and disseminated 2,390 copies of a new and unique government support-services brochure that outlines local resources available to beneficiaries that can aid them in advancing their business- and work-related goals.
As part of the awareness-building campaign, the UNIDO Rabeha team conducted two virtual focus group discussions with a total of 25 beneficiaries from the Minya and Fayoum governorates. The purpose was to gather information on beneficiary profiles as well as their needs and challenges to inform Rabeha's next steps. Common goals identified among women include a preference for self-employment and entrepreneurship, with a particular interest in pursuing cluster business models which see women produce and sell together. Discussions with beneficiaries also shed light on their perceptions of the recent awareness-raising campaign.
"Before coming to the awareness-raising session, I knew that I wanted to work but I struggled to find an idea for a project and what steps I needed to take to start", said Hanan Mohamed, a project beneficiary from Fayoum. "The session helped me to realize that I could take advantage of my interest and skills in photography. Now I want to work with other businesses to market and brand their clothing products online".
"I had a small project and faced a problem so I had to close it", said Martina, another beneficiary from Minya. "But after I attended the awareness session with Rabeha, I decided that I would continue the project and grow it".
By the end of 2022, Rabeha plans to provide 600 aspiring entrepreneurs and early-stage business owners with entrepreneurship training. In parallel, the programme will also launch its employment trainings and job matching for 200 women job seekers seeking work in value-addition stages of the MAPs and Dates VCs.
In addition, Rabeha will also launch consultant development programme that trains a pool of university graduates in good agricultural and climate smart practices, thus promoting green paid and self-employment. As part of the next steps, in 2023-2024, Rabeha will provide in-depth business and technical support as well as mentoring and market access to entrepreneurs to make progress towards the UNIDO end-goals of 100 enterprises established/enhanced and 500 job opportunities generated. It will also continue to provide employment trainings and job matching services to employment seekers to support the recruitment of 400 women in productive clusters.
For more information, please contact:
Virpi Stucki