When
2020 September 29
2020 September 29
Organizer
UNIDO, European Commission
Side Event at the World Circular Economy Forum Online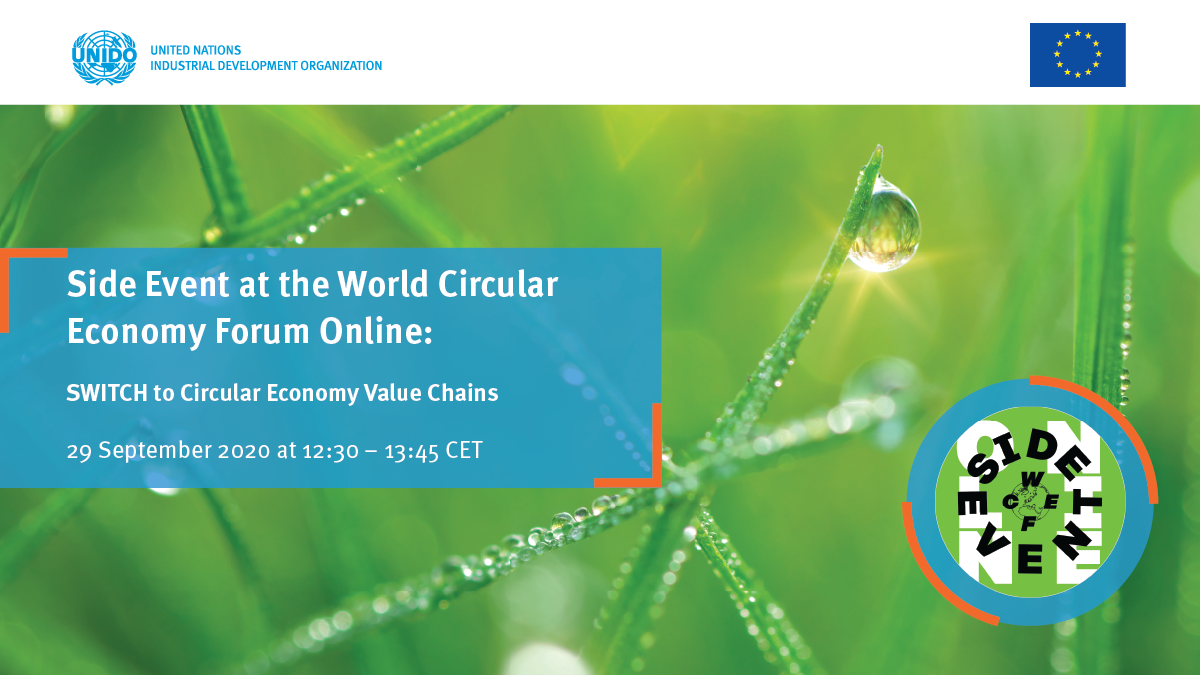 A value chain is the full range of activities it takes to make, market, use, repair, reuse, remanufacture and recycle a product – value is added at every link in the chain. In global value chains, goods are consumed far from the locations where they were produced and mostly in a linear pattern of "take-make-use-dispose". This linear production and consumption model is hugely wasteful of resources with adverse impacts on the health of humans, ecosystems and economies.
Multinational corporations in high-income countries usually lead most global value chains for a variety of goods from food to consumer goods such as electronics, apparel, shoes to higher value goods such as durable household goods, medical equipment and vehicles. Global value chain leaders have influence over their products in different stages of a product's life span from research and development, design and materials selection, production, transport and distribution, use and end-of-life. Their suppliers located in developing countries more often than not lack the expertise, flexibility and financing to switch to circular products, unless circularity is a strategic objective of the value chain leaders.
Working in partnership, value chain actors can improve the circularity of their products. In this process, governments, financial institutions, civil society, and consumers also have important roles to play so that the benefits of circular economy practices implemented by businesses are fully realized.
During this event, the participants spoke from their perspective on how to switch to a circular economy in value chains and the types of targeted interventions that can help suppliers in developing countries overcome potential technical and financial challenges associated with this transition. The participants engaged in a dialogue about the trends in circular economy practices that can be adopted by businesses to help a just transition of the industry toward climate-neutrality, long-term competitiveness, and economic prosperity.
On this occasion, the UNIDO led, European Union funded, global "SWITCH to circular economy value chains" was also introduced.
The event agenda can be found here.
Watch the event recording below:
Speakers and presentations:
Hilde van Duijn
Circle Economy
Hilde van Duijn is a senior project manager at Circle Economy, an impact organization with the mission to accelerate the practical and scalable implementation of the circular economy. The switch to circular, sustainable and just supply chains has been a key topic in the various multistakeholder projects Hilde led in the sectors of water management, food and beverage and textiles.
Carla Montesi
European Commission's Directorate General for Development and Cooperation
Carla Montesi is Director at the European Commission's Directorate General for Development and Cooperation. She has been responsible for the Directorate "Planet and Prosperity" since September 2018. Before that (2014-2018) she was Director for Western and Central Africa. Prior to 2014, she was Director at the Directorate General for Maritime Affairs and Fisheries. Formerly a lawyer in Italy, Mrs Montesi's earlier career encompassed diverse responsibilities in the field of EU external policy both at Headquarters and in EU Delegations in Africa, as well as experience in the Cabinet of EU Commissioner Emma Bonino for External Policy and Humanitarian Affairs.
Presentation on "The European Green Deal: an overview" is available here
Jessica Vilhelmsson
H&M Group
Jessica Vilhelmsson is Country Manager of H&M Group Production Office Indonesia, with headquarter in Stockholm, Sweden. Jessica leads the company's sourcing strategies and implementations in Indonesia, including supplier partnership and capability development of the production market. Being overall responsible includes her high focus on social and environment sustainability to ensure good business practices throughout Indonesia supply chain.
Presentation on "Circular Economy at H&M" is available here
Oliver Boachie
Ghana's Ministry of Environment, Science, Technology & Innovation
Oliver Boachie is Special Advisor to Ghana's Minister of Environment, Science, Technology & Innovation and chairs the Technical Committee of Ghana's National Plastics Action Partnership. He works with Government, academia, and private sector stakeholders to develop strategies for the management of Ghana's Environment, Science, Technology and Innovation. Before returning to Ghana from the U.S., Oliver worked for Texas Instruments and IBM as Software Engineer.
Presentation on "Ghana's experience with circular economy policies" is available here
Jan Raes
ABN AMRO
Jan Raes works as Global Sustainability Advisor for ABN AMRO's Corporate Strategy & Sustainability department. He is an expert in the integration of social, environmental and economic aspects for the bank and her clients. Besides his job at ABN AMRO, he has affiliations with UNEP-FI, Chatham House, the Partnership for Carbon Accounting Financials (PCAF), where he acts as chair of the working group on science-based target setting and represents ABN AMRO in global dialogues on climate, circular economy and SDGs.
Presentation on "Financing circular economy practices" is available here
Stephan Sicars
UNIDO
Stephan Sicars joined UNIDO in 2014 and became Director of its Department of Environment in 2015. Since June 2020, he has been Managing Director for Environment and Energy, leading industrial development initiatives related to resource efficient, low carbon production, access to clean energy, multilateral environmental agreements and water. He focuses on Climate Change, industrial pollution and, in particular, circular economy.
Presentation on "Overview on project Switch to Circular Economy Value chains" is available here
Johanna Tilkanen
Chatham House
Johanna Tilkanen is a Project Manager at the Energy, Environment and Resources Programme at Chatham House with focus on the circular economy projects of the programme catalysing progress towards inclusive circular economies around the world. Before joining Chatham House, Johanna worked at Bioregional, a sustainability charity and social enterprise supporting organisations to develop strategies for sustainable and circular transition.