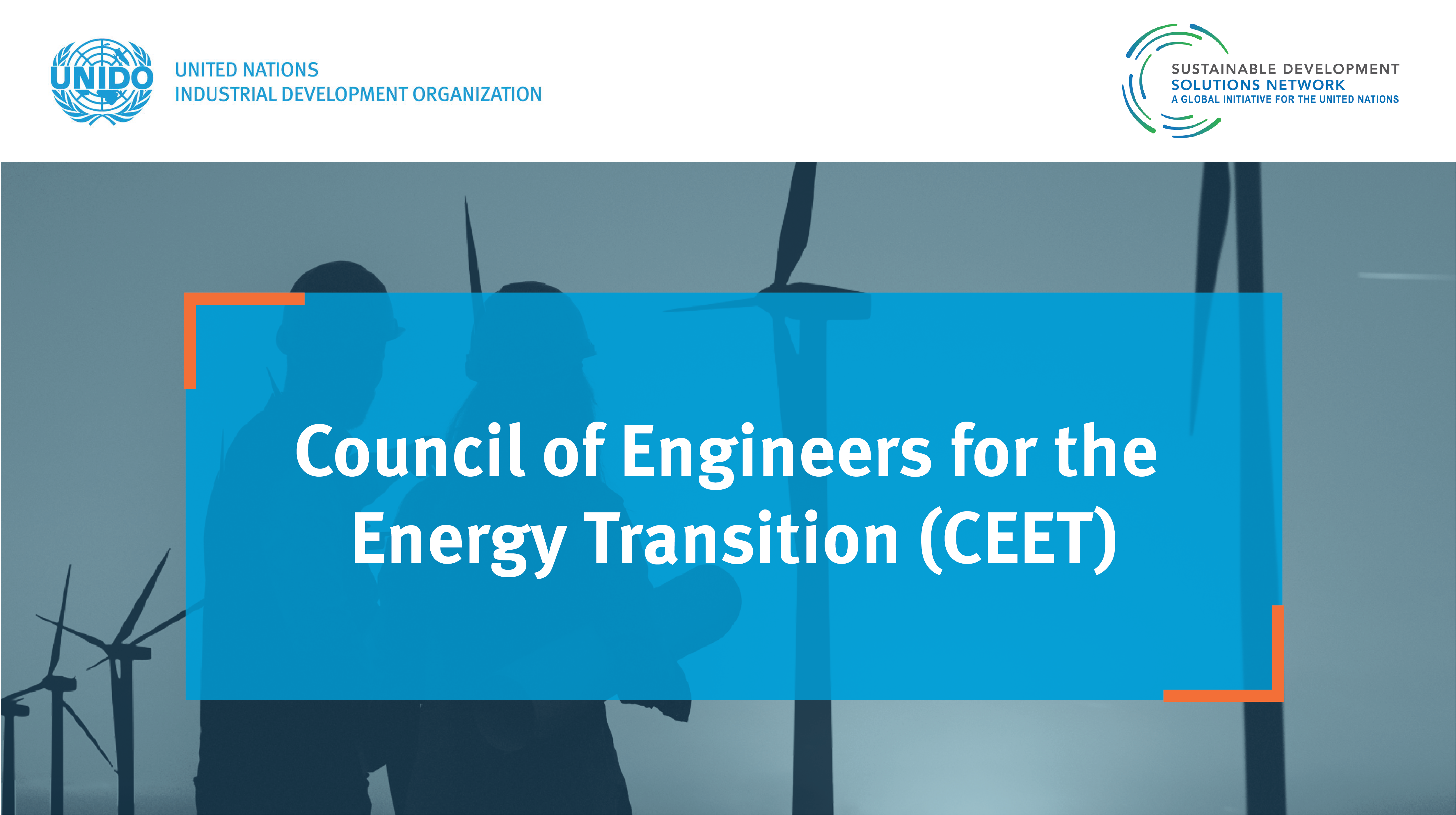 General information
Under the auspices of the UN Secretary-General, the Council of Engineers for the Energy Transition (CEET) is a global, high-level body of engineers and energy systems experts to contribute to the UN Secretary-General's goal to build a coalition to achieve net zero emissions by 2050, and to the UN generally on engineering pathways to achieve comprehensive decarbonization by mid-century. The work of the CEET will be undertaken by an independent and impartial council of recognized global experts, serving in their personal capacity and responding to requests for information by the UN System.
The CEET was launched in September 2021 and is co-chaired by Gerd Müller, Director General of the United Nations Industrial Development Organization (UNIDO) and Professor Jeffrey Sachs, President of the Sustainable Development Solutions Network (SDSN).
CEET core activities will focus on: solving the challenges of scaling key technologies in support of the global energy transition; recommending guidelines to support countries in the implementation of their Nationally Determined Contributions in line with the Paris Agreement; publishing technical briefs on zero-carbon technologies, including breakthrough technologies; analyzing sectoral and integrated pathways at regional and local levels; and providing guidance and technical advice from a globally diverse expert perspective, ensuring a gender responsive energy transition and decarbonization. 
Call for global experts for the Council of Engineers for the Energy Transition
The Council of Engineers for the Energy Transition (CEET) has begun recruitment for members to join a high-level independent advisory council to the United Nations' Secretary-General. Engineers are invited to apply to the CEET through an online application available here.
Application deadline: 7 March 2022 (23:59 EST / UTC - 5)
Selection Criteria for the Council of Engineers (CEET):
Formal engineering training or equivalent experience; 

Minimum of 10 years of experience in the engineering realm facing issues at the intersection of engineering and climate change issues; 

Demonstrated commitment, interest, and leadership in engineering topics as they pertain to climate and energy; 

Desire to serve global community through collaboration; 

Demonstrated exceptional writing, analytical, critical thinking, public speaking, and communication skills - publications, presentations, research, etc.;

Experience drafting recommendations and working collaboratively with teams to develop recommendations;

Experience with developing and implementing long-term strategies, especially in building consensus and navigating disagreement and diplomacy; and

Experience working with diverse stakeholders with a wide variety of strong relationships in the climate and engineering sectors.

Please note: Proficiency in the English language is required for participation in the CEET. 
Membership principles:
The CEET membership will reflect a balance of multi-stakeholder constituencies and engineering expertise. In addition, geographical, and cultural diversity will be considered according to five dimensions:
Key sectors: energy supply; transport; buildings; industry; agriculture; land use, land-use change, and forestry (LULUCF); and waste

Regions: Australia and New Zealand; Central and Southern Asia; Eastern and South-Eastern Asia; Europe and Northern America; Latin America and the Caribbean; Northern Africa and Western Asia; Oceania; and Sub-Saharan Africa

Stakeholders: representation from industry, academia, think tanks, civil society, both local and international NGOs, and international organizations

Gender

Age
Terms of service: The terms of service will be for two years in length, with possibility to extend, starting in May 2022. The confirmed members will be expected to participate in their personal capacities without remuneration, however any necessary travel or meeting expenses may be covered.
About us
United Nations Industrial Development Organization (UNIDO)
UNIDO is the specialized agency of the United Nations that promotes industrial development for poverty reduction, inclusive globalization and environmental sustainability. UNIDO's mission is to promote and accelerate inclusive and sustainable industrial development, contributing to the achievement of the 2030 Agenda for Sustainable Development and Sustainable Development Goals (SDGs).
For more information, contact:
Nicholas Dehod, Project Administrator
Sustainable Development Solutions Network (SDSN)
SDSN mobilizes global scientific and technological expertise to promote practical solutions for sustainable development, including the implementation of the SDGs and the Paris Climate Agreement. SDSN works closely with United Nations agencies, multilateral financing institutions, the private sector, and civil society.
For more information, contact:
Elena Crete, Head of the Climate and Energy Programme