Investment and technology transfer from Germany as driver for economic development in Europe and Africa
24 March 2021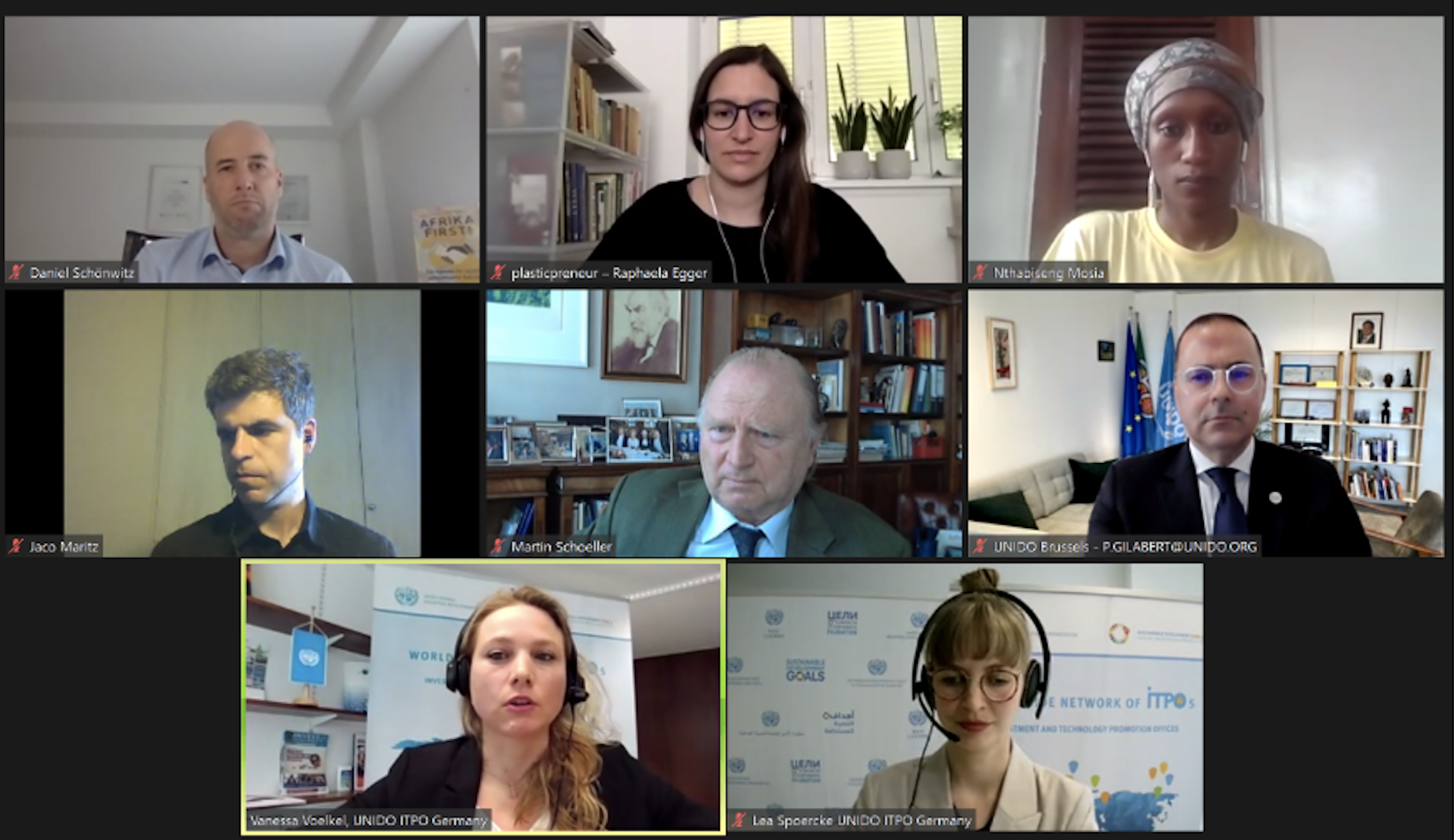 BONN/BRUSSELS, 24 March 2021 - The UNIDO Investment and Technology Promotion Office (ITPO) Germany, in partnership with UNIDO Brussels Liaison Office, hosted the third UNIDO local event in the framework of EU Industry Week 2021 on the role of investments and technology transfer as driver for economic development in Europe and Africa.
The multi-stakeholder discussion explored opportunities to establish effective and fruitful business collaborations between Europe, especially Germany, and Africa for green growth and sustainable development. Through informative presentations from authors and entrepreneurs, this panel discussion was an opportunity to learn more about the role of private sector cooperation in advancing green growth, innovative financing ideas, and successful entrepreneurship.
In his opening remarks, Patrick Gilabert, Head of UNIDO Office Brussels, said, "Investment and technology transfer are the cornerstone of industrial development and should be put at the centre of any partnerships with Africa. The EU, and the UN, including UNIDO, are strongly supporting the implementation of the African Continental Free Trade Area (AfCFTA)."
Vanessa Voelkel, Deputy Head of UNIDO ITPO Germany, highlighted: "I am happy that UNIDO and ITPO Germany support both European and African players to advance a sustainable industrialization. Africa is a regional focus of our office, in line with the German development cooperation priorities. The comprehensive EU strategy with Africa places the promotion of sustainable investments at top of its agenda. I am convinced that the private sector can play a pivotal role in unlocking the huge potential of green technologies in Africa."
Martin Schoeller, Co-Founder and Co-chairman of the Schoeller Group, Honorary Consul of the Republic of Togo, and author of Afrika first!, shed light on the dynamics and potential growth of Africa, emphasizing the necessity of investing in African infrastructure.
Daniel Schoenwitz, a business journalist and co-author of the book, mentioned the "huge positive impact" that Europe could have through private capital on the acceleration of infrastructure development, and on attracting more European entrepreneurs to invest in Africa."
Jaco Maritz, Founder of How We Made It in Africa and author of the book, How we made it in Africa: Learn from the stories of 25 entrepreneurs who've built thriving businesses, shared his insights on entrepreneurship in Africa, providing some examples of outstanding African entrepreneurs, such as Jesse Moore at M-KOPA Solar and Mossadeck Bally at the Azalaï hotel chain.
Two women entrepreneurs shared their experiences and enthusiasm about technological innovations and technology transfer. Nthabiseng Mosia, Co-Founder and Chief Commercial Officer at Easy Solar, presented her innovative solar distribution company in West Africa which enhances the lives of last-mile communities by providing access to affordable and clean solar energy. Raphaela Egger, Co-Founder of plasticpreneur, one of the start-ups that won the UNIDO Global Call for Innovative Ideas and Technologies vs. COVID-19 and beyond, described how the company thrives on innovation with regard to recycling technologies and fosters the transition towards a circular economy.
This third and last webinar in the series of UNIDO local events in the framework of EU Industry Week 2021, concluded that UNIDO ITPOs are significant drivers for promoting sustainable development, digitalization of industries and economic recovery from COVID-19 crisis. The series of events showcased the achievements of UNIDO along with the EU and OACPS in the field of investment and technology promotion. Moreover, gathering more than 400 participants overall from various backgrounds, the series covered a wide range of topics from enhanced competitiveness, public-private collaboration, quality infrastructures, Industry 4.0, digitalization, clean energy, circular economy and women empowerment. Theoretical knowledge sharing and visions were also well illustrated by concrete tools for development projects and business experiences mostly from ACP countries.
Above all, the discussions stressed the importance of partnerships in achieving inclusive and sustainable industrial development and Agenda 2030.
Watch the recording of the event here.
Read more:
UNIDO EU Industry Week webinar series starts with a focus on investment and technology promotion
The digital future of sustainable industrial manufacturing in Italy and beyond