UNIDO addresses the need for enhanced women's inclusion in Industry 4.0
10 July 2019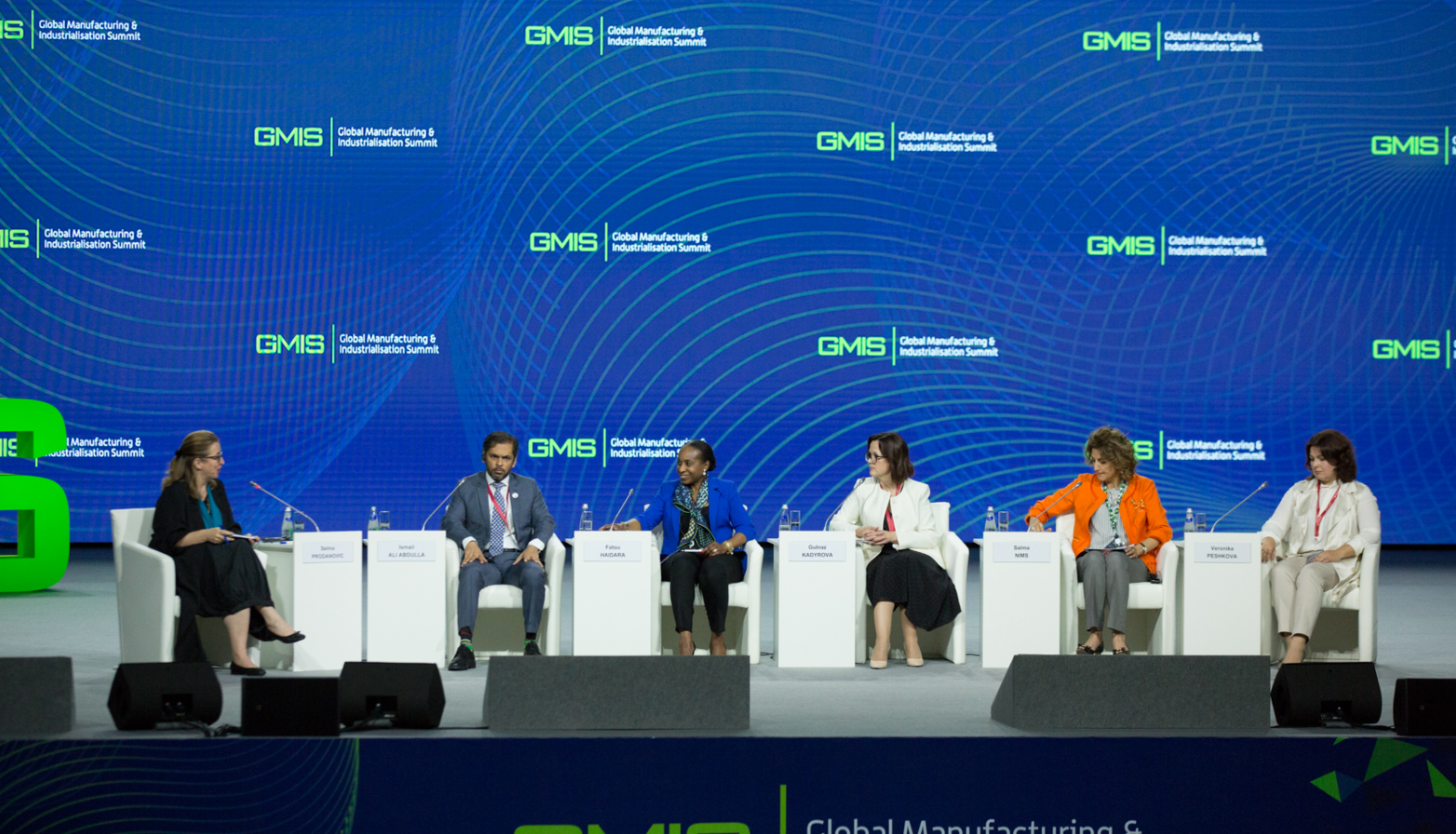 Yekaterinburg, 10 July 2019 – The United Nations Industrial Development Organization (UNIDO) organized a panel discussion on 'Industry needs Women: Women's Entrepreneurship and Economic Empowerment in the Context of Digitalization' during the second Global Manufacturing and Industrialisation Summit (GMIS). Moderated by Founder and CEO of 1MillionStartups, Selma Prodanovic, the panel discussion focused on opportunities and challenges for women stemming from the Fourth Industrial Revolution (4IR).
"The Fourth Industrial Revolution changes everything and everyone; this is why it is very important to create an ecosystem conducive to the development of women's leadership, mentorship and economic empowerment", said Deputy Minister of Industry and Trade of the Russian Federation, Gulnaz Kadyrova. "We encourage cooperation at all levels and value UNIDO's role in creating a unique platform for knowledge-sharing and capacity-building".
"We are already witnessing an increasing participation of women in e-commerce, STEM-areas, and digital innovations. Yet, a gender-based gap persists caused by the lack of access, affordability, and technological literacy," said UNIDO Managing Director, Fatou Haidara. "UNIDO believes that women can enable greater economic growth if they get greater access to the digital economy through capacity-building and training programmes as well as networking and knowledge-sharing platforms".
"Women's economic empowerment is not merely a matter of human rights as it also has potential to create greater economic growth", said UNIDO Goodwill Ambassador, Veronika Peshkova. "We need to break down barriers that prevent women and girls of all ages from accessing the digital market, and it is the responsibility of all stakeholders to think creatively on how to achieve this objective".
"There is a need to foster equality at large, not only on the level of infrastructure, but we must take a comprehensive approach to all policies," said Secretary General of the Jordanian National Commission for Women, Salma Nims. "Public-private partnerships are critical to promote investment and facilitate access to technologies and resources".
"Strata really values great potential of female employees, and that is why 52% of current Strata workers are women." Said CEO of the Strata Manufacturing PJSC, Ismail Ali Abdulla. "Sustainability means balanced workforce and equality at the workplace, it is very significant for all companies to have gender balanced teams".
The panel discussion was held with the financial support of the Government of the Russian Federation within the framework of the global UNIDO project "UNIDO as a platform to promote women's economic empowerment and entrepreneurship". To find out more about UNIDO's activities in this field, press here.
For more information, please contact:
Ms. Solomiya Omelyan
Programme Officer
Regional Division - Europe and Central Asia
United Nations Industrial Development Organization (UNIDO)