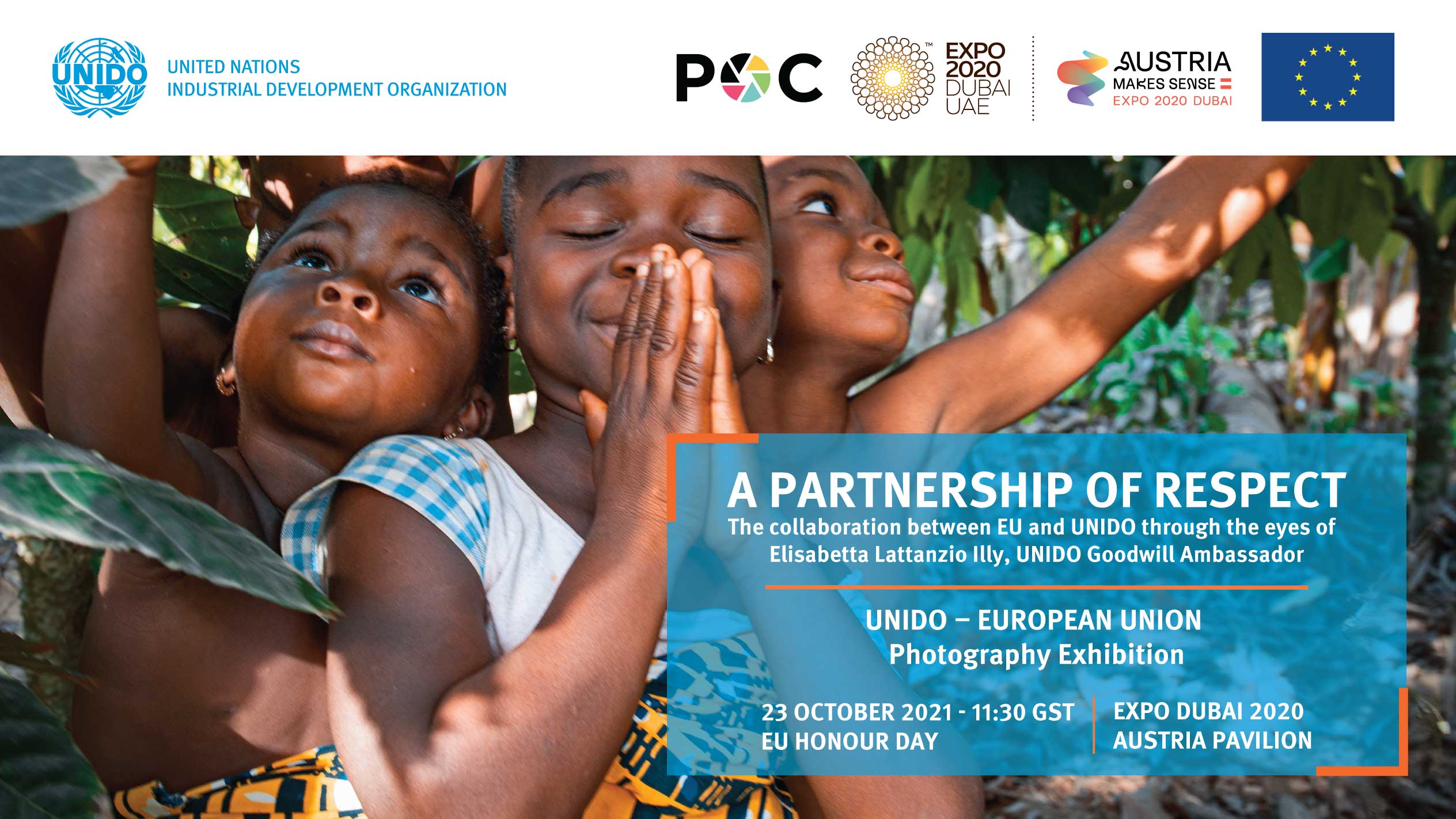 The United Nations Industrial Development Organization (UNIDO), the European Union (EU), and the UNIDO Goodwill ambassador Elisabetta Lattanzio Illy are organizing a photo exhibition at the 2020 Dubai Universal Exposition (UAE), hosted by the Austria Pavillon. The opening ceremony will take place on 23 October 2021.
The photo exhibition "A Partnership of Respect" will showcase the UNIDO-EU partnership through the eyes of Elisabetta Lattanzio Illy, a journalist and photographer with over 25 years of experience advocating for equal dignity for all. The exhibition will showcase a collection of stories of positive change from all over the world and raise awareness of the successful collaboration between UNIDO and the EU in achieving the UN's 17 Sustainable Development Goals, in particular SDG 9 "Industry, Innovation and Infrastructure". The underlying theme is the respect for the environment, for women, for entrepreneurship and industrialization, and for youth. The approach of her photo agency Picture of Change aims to empower local communities to promote their products and self-sustain their economy. 
Since 1851, the Universal Exposition aims to promote technological progress for the benefit of humanity. The 2020 Dubai Universal Exposition (UAE) is themed "Connecting Minds, Creating the Future", based around three main topics: mobility, sustainability, opportunity. The space spreads over 438 hectares, and 192 participating countries and 25 million visitors are expected to attend. 
The opening ceremony will be held in the framework of European Union Honour Day, a full day packed with EU-dedicated events organized jointly by the EEAS, European Institutions and the EU Member States, giving an important role to EU cultural diplomacy and global sustainable partnerships. Special guests and partners will include the artist Elisabetta Lattanzio Illy, Patrick Gilabert, UNIDO Representative to the European Union, Stephen Klement, EU Ambassador to UNIDO in Vienna, Wolfgang Sobotka, President of the Austrian Parliament, and others to be confirmed.